HappyBidDay.com is a highly recommended, reputable penny auction site. With reviews like "customer service goes above and beyond" and "great assortment of items", this is one of the best penny auction sites that we suggest people to visit. Not only is it free to look around, but if you register today, you can receive gracious promotions for free bids and discounted prices. Claim your HappyBidDay promo codes here.
Register today using promo code "

HAPPY

"– receive 50 free bids and 20% discount on first bid pack purchase.
Use Promo Code "

30NOW

" and receive 30% off any 2 bid pack purchases.
For each friend that registers you receive 30 free bids in your account that can be used in "Happy Auctions".
3 Free Bids upon daily login
50 free bids on birthdays.
How to enter HappyBidDay.com Promo Codes: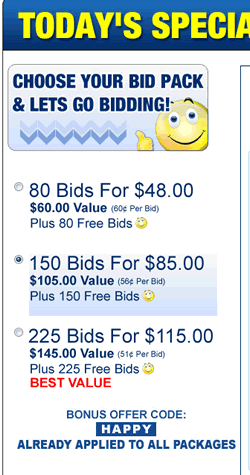 Once you have registered for HappyBidDay.com for the first time,  it will take you to a screen which shows three separate bid packs available for purchase, (see screen shot to the right) all of three showing your "HAPPY" promo code discount. Choose the bidpack that meets your fancy and you will automatically receive your 20% discount as well as your free bids. It's important to note that free bids can only be used on "Happy Auctions". These auctions are free to bid on but the ending auction price increases by 29 cents after every bid. Conservation is key in winning these penny auctions for decent prices.
When referring a friend to the program, you will receive 30 free bids upon their registration. Follow these steps to claim your free referral bids.
once registered, click on "My Account" tab at the top.
under "BID ACCOUNT" in the right toolbar- click on "Invite your Friends"
Enter friends email addresses in provided box. Screen shot below.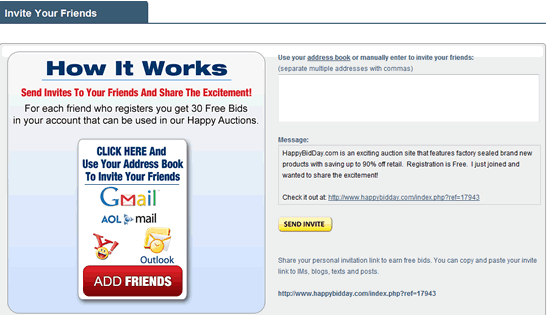 After your friends have registered, you free bids will automatically be deposited into your free bids account.
Find out more information about this site from our HappyBidDay Review page.
Click here to claim your HappyBidDay.com Promo's.
Looking for more Penny Auction Site Promo Codes?
Check out our other articles on Promo Codes and Coupon Codes.