If you are looking for a new penny auction site then you should take a close look at one of my new favorites, BidRivals.com. If you are new to Bidrivals then you should absolutely use the best bidrivals bonus code on the web today to max out your free bids. There is no reason not to use this 2012 bonus code for Bid Rivals penny auction site!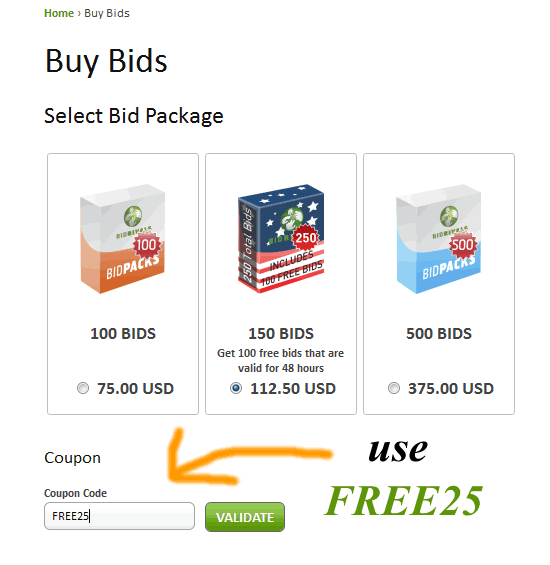 BidRivals Bonus Code = FREE25
The bonus code itself pretty much says what you get… claim 25 free bids with BidRivals.com new player bonus code "FREE25".
Get 25 Free Bids
Bids do not have value towards "BIN" (not sure what BIN mean? see this penny auction terms page)
Must be a NEW bidder – Existing bidders can not use this bonus code
Tested valid at www.BidRivals.com
BidRivals is a great place to shop in penny auctions. I normally don't say "shop" because penny auctions are not just shopping, they are playing a competitive game of brinkmanship but BidRivals offers their auctions with a buy it now feature on all auctions (pretty sure it is 10% of auctions have BIN but be sure to read the specific auction details etc etc.).
Quick BidRivals Free Bonus Bids Code Strategy
Unless you get really lucky then 25 bids are not enough by themselves to win you anything at BidRivals. Let's be straight with you here… those bids alone you will seriously have to get lucky to win because all the bidders know that if someone googles anything like 'bidrivals bonus code' or bid rivals coupon code or most free bids at bidrivals code then they are going to find this promotion and they know that you have are likely to spend 25 bids and quit.
Well, prove them wrong. Certainly use the free bids but purchase as large of a bidpack as you are comfortable with in addition the free bid with the plan to go deep and win or bin your 1st auction. Once you keep bidding past the free bid point, other bidders will recogonize that you are not the typical 'free bid bidder' and automatically give you a bit more respect.
I Want My FREE Bids Now – Click Here – use bonus code: FREE25