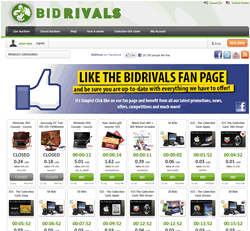 BidRivals.com is one of the largest online penny auction sites in the industry. They are one of the biggest, most well established and worldwide penny auction sites in existence. If you are new to the world of penny auctions then we recommend starting out on a larger site like BidRivals so you can learn how the game works, and use the fact that the vast majority of the auctions offer a buy it now option if you do not win the item you are bidding on. We have a high level of trust, accountability and positive history to report about BidRivals and you should feel safe bidding there.
BidRivals is one of the largest penny auction sites online that offer "BIN" on their auctions.
Bid Rivals Contact Information:
Web address: http://www.bidrivals.com/
Mailing Address: BidRivals, Inc. Empire State Building Suite 5900 350 Fifth Avenue New York, New York 10118 (Also international offices)
contact support: Canada – us@bidrivals.com
BidRivals Bonus and FREE BIDS Coupon Code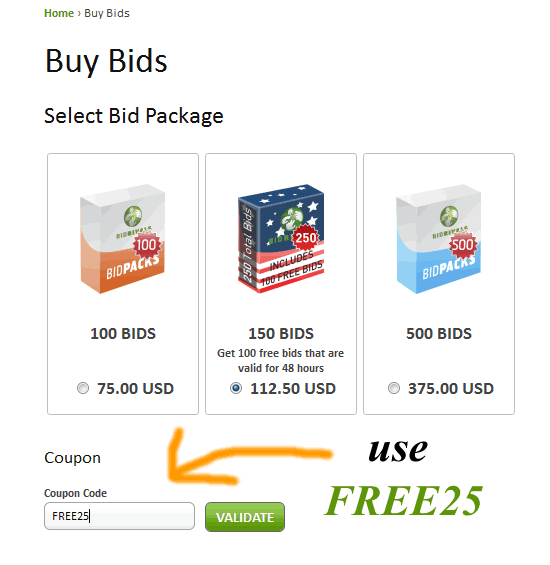 25 free bids on first deposit only with coupon code "25FREE" CLICK HERE FOR 25 FREE BIDS
1 free bid upon completing registration.
Bonus Bid Offers on your first bid pack purchase of $112 gets you 100 bonus bids that expire within 48 hours plus your 150 bids for 250 bids to battle with
Make sure you use your free bids and bonus bids within 48 hours as they do expire and they do not count towards a 'buy it now' price.
Is Bidrivals a Scam or Legit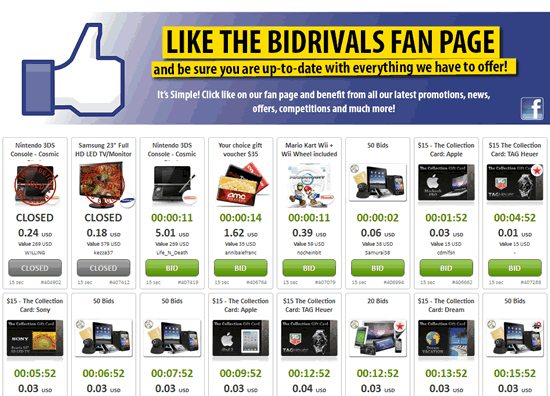 First it is important that you understand how penny auctions work. If you do not understand how Bidrivals can sell a $50 gift card for $5 and still make a healthy profit for themselves then I'm sure that bidrivals, and any penny auction site for that matter, looks like a scam to you. The fact of the matter is that Bidrivals.com is legit, trusted and from all accounts an honest penny auction site. They offer fair auctions, have a positive history in the industry and fully explain how everything works on their website.
They also offer on most of their auctions a buy-it-now feature meaning that you as a bidder are risking less by bidding on an auction as if you do not win the auction you can apply the amount you spent on bids to the auction itself.
BidRivals.com Fair Auction Guarantee
One of the benefits of bidding at such an established penny bidding site is their guarantee for the customers and people who have accounts with their site have been proven, ie you are not the guinea pig at Bidrivals. BidRivals.com is one of the few sites that offers a guarantee that they provide auctions that are safe and legitimate. The "Fair Auction Guarantee" at BidRivals states that there are no autobidders on any of their systems nor any programs that automatically bid on auctions. It also guarantees that employees, staff members, and their families are NOT allowed to bid on any auctions. IE they do not use shill bidders and 100% of bids placed in their auctions come from real people just like you and I.
What products can you win at BidRivals.com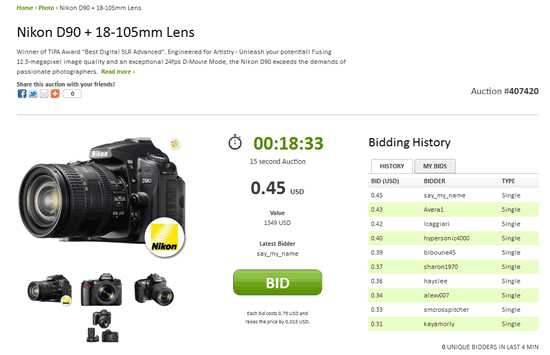 You can win pretty much anything at Bid Rivals.com. They have an awesome selection of high end cameras and they can afford to do so as they are one of the leading penny auction sites in the penny auction industry. This means that their selection is one of the best. From gift cards, to high end electronics like TV's, iPads and laptop computers, to jewelry and apparel, you can find it at Bidrivals.com. As a matter of fact, they are one of our top choices for winning iPods. We recently saw an Ipod nano with 16GB, retailing at $189.00, that was sold for only $2.94.
As well as iPods, BidRivals.com also has a great selection of penny auctions for video games and consoles. Here you can find video game consoles such as the Xbox 360 250GB console + Kinect, PS3 Slim 160GB, and Nintendo 3DS Console.
This site conducts it's business in multiple languages and offers penny auctions to over 25 countries. With a site of that size, it is important to get a good look at what kind of site you will be dealing with and the legitimacy of the site.
Finding products at BidRivals.com is made easy with the category navigational tool that is provided on the home page. It allows you to search through auctions based on category such as home and garden, men's fashion and accessories, mobiles and telephones, and much more. Check out the selection yourself at BidRivals.com.
BidRivals.com Pro's and Con's
Pro's:
Operates in over 25 countries.
offers a "Buy Now" option- up to 24 hours after auction has closed.
Offers winning tips for BidRivals.com bidders.
Great navigational tool that helps narrow down customers auction search.
Offers Beginner Auctions.
Fair Auction Guarantee.
Fairly low win limit.
Con's:
Customer Support team not easily accessible.
Very large site which means competition can be high.
Sign up promotion is only ONE free bid. (however you do get 25 free bids on your first deposit)
Deliveries can take longer as compared to other penny auction sites (21 days).
Shipments not offered with tracking numbers. Must contact support team for tracking.
Free bids expire within 48 hours- (registration bids, login bids, & bid pack purchases)
Bidders are not notified right away that they have reached their win limit. This could result in a bidder spending non-refundable bids on an auction that they cannot actually win. Bidders need to keep track of their winnings.
If you are a power bidder, you can only win 10,000 worth of merchandise in a calendar year before you have to change your name (and rebuild your power bidding reputation).
BidRivals.com Win Limits:
Win Limits are put into place to give a chance for all bidders to win an auction. They are great for the beginning bidders who are having a hard time fighting off the competition, and lucky for the experienced bidder, because BidRivals.com offers low win limits. For every 24 hours, one particular bidder can win 4 items, 4 bid packs, and 4 gift cards. Within 30 days, any single bidder can win 4 items worth a total of $750. As compared to other penny auction sites, these win limits are relatively low.
Take advantage of these low win limits and register for free at BidRivals.com.
How Bidrivals Auctions Work & Types of Auctions
If you are familiar with penny auctions then you know the basics of how things work. Prices start at a penny and go up for every bid placed. Bids cost $.65 each.
Auction timer counts down to zero and then goes "Going Once, Going Twice, Going Third and finally "SOLD" Those last few count downs take a healthy amount of time to register so it is important for you to judge your last comfortable moment to bid and have it register successfully
Live Auctions – Anyone can bid, all auctions are 'live' meaning that they are open and you are bidding against real people
Beginner Auctions – Your first 5 wins can be in beginner auctions meaning that you are competing only with other beginners
Bonus Auction – This is a name for an auction that allows BidRivals.com to reduce some of their risk. Essentially if you are active in a bonus auction that ends before the auction price reaches 1% of the Buy Now price then the auction is paused and everyone who has placed a bid in the auction will receive bonus bids, but instead of the auction closing, the auction is 'paused'. They explain this in their FAQ. Just know the details if you decide to bid in this style of auction
How to Win at Bidrivals.com – Bidding Strategies and Tips for Bidrivals
Make no mistake about it, Bidrivals is competitive! It is one of the big penny auction sites so the competition can be tough. It is possible to win and they do a few interesting things that allow you to apply a higher level of bidding strategy. I highly recommend signing up for the skoreit strategy guide, as the techniques and apply to winning at BidRivals as well. They do not allow you to click on users names to pull up a history like Skoreit, but you can see how many unique bidders were present in the last 4 minutes as well as what kind of bid was placed, bidagent or single bidder (use the bid agent).
Bid and Win at Bidrivals!