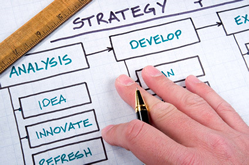 If you can win the game of penny auctions then you can win incredible prizes, fantastic deals and make a lot of money.  However, if you do not win then you can lose money. Sometimes a lot of money.  Even if you win an auction you can still lose money by spending more in bids than the prize is worth!  To help maximize your wins and minimize your losses read through our penny auction strategy articles, tips and ideas to help you win penny auctions.
Penny Auction Strategies
[ad#foopile-blockquotetext-250bids]
We are compiling a growing list of penny auction strategy articles.  Some articles we are writing ourselves and are actively looking for other high quality penny auction strategy articles from around the web.  We are working to contact some of the biggest winners in the penny auction world to share their penny auction winning secrets. If you are a winning penny auction player and would like to write a strategy article or articles, let us know as it's a paying gig! Here is our growing list of penny auction strategy articles.
How Penny Auctions Work – This beginners guide walks you through a typical penny auction explaining all of the forces at work and teaching you the essentials you need to know before bidding.
Common Penny Auction Mistakes – Avoid these mistakes and save yourself some wasted bids.  Learn what not to do when bidding on penny auctions.
Winning Penny Auction Tips – Quick bits of penny auction advice to help you win more. Learn things you should do or not do to give yourself the best chance of winning.
Penny Auction Bidding Styles – Classification of different types of penny auction bidding styles and their strengths and weaknesses.  There are many different styles that bidders use to help them win and this article covers the most common including a power bidding strategy.
How to Become A Power Bidder – This article looks at the power bidding penny auction strategy and it's strengths and weaknesses.
Skoreit Strategy – Tips to win at Skoreit.com including a comprehensive break down of the auto bidding feature on skoreit.com called the bidagent.  Learn how to effectively use the bidagent to help you win more auctions.
Beezid Tips – Strategy tailored to winning at a large and competitive site like Beezid. Learn what to do to find the right time to start bidding on beezid and how to stop losing and start winning!
Penny Auctions and Poker – Similar in many ways, this article takes a look at how online poker and online penny auctions use similar strategies to win.
Winning Penny Auction Strategy
The overall goal of a penny auction player should be to win items of their choosing with as few bids as possible. Your short term goal is to win the current auction you are involved in with as few bids as possible. Your long term goal is to win the largest percentage of items with as few overall bids as possible.
Some times, the long and short term goals contradict each other.  Sometimes it makes sense to overbid to win on a particular auction if you think having that win in your history will help you win additional auctions for fewer bids overall.  This is detailed out in the theory of power bidding strategy article.
Is there a Winning Penny Auction Strategy
Yes, in fact there are multiple winning penny auction strategies and they are constantly evolving.  Very similar to poker.  There are a lot of similarities between penny auctions and skill based games of chance like poker.  Poker and penny auctions involve luck, timing, skill, aggression and a you vs everyone else attitude.
Learning how each penny auction works and developing a strategy that works for you is essential to become a winning penny auction bidder.  Read through our growing list of penny auction strategy articles, penny bidding styles and develop your own strategy to help you win penny auctions.
[ad#foopile-blockquotetext-250bids]