Raging Bid Contact Information:

Official Web Address: www.ragingbid.com
Mailing Address: Score Marketing and Promotions, LLC 1803 Park Center Drive, Suite 110 Orlando, FL 32835
Customer Support: support@ragingbid.com
**Don't swing by ragingbid.com and expect to win any time soon. I've been checking this site for a few MONTHS and I keep getting the message below. Want some real penny auction action? Stop by Beezid.com now!

Is RagingBid Legit or a Scam?
On our search for new and reliable penny auction sites we came across RagingBid.com. This site sparked our attention because of the vast amount of products that are available for auction. Not only does this site have a huge selection of products but they also have a high volume of auctions held per day. Even better, they have a great reputation and history and we are confident that RagingBid is not a scam and are a legit and trustable penny auction site.
RagingBid.com offers everything from gift card auctions to event tickets and vacations, and categorizes them based on value. Finding the right penny auction is made easy with their navigational tool and the neatly categorized product list. Check out RagingBid.com for yourself and see their huge selection of products.
RagingBid.com Promotions:
5 Free bids for completing their free registration.
25 Free Bids for using RagingBid.com  promo code: "

RagingBidFB

" (click here).
$25 Restaurant Gift Card upon first purchase of any bid pack.
Refer a Friend Commission: Earn 10% of all the revenue generated by your referrals.
YouTube Testimonials: 50 Free Bids for posting a youtube video with your won auction item.
Facebook Promo's: Become Facebook Friends with RagingBid.com and get daily updates on promo's and give-away's.
Is RagingBid.com Safe?
After doing further research and reading RagingBid reviews we are confident to say that this site is not a scam auction site, but a legitimate and safe one to conduct your bidding at. Of course, as with any penny auction site, there is a certain level of gambling required and the possibility of losing money does exist. However, if you practice a winning bidding strategy, watch the auctions, and know which bidders you can beat, you can come out with some awesome deals and great prices on big ticket items. RagingBid.com's reviews have praised their customer support and shipping, and I have yet to come across one customer complaint of not receiving a won auction item.
Here is an over-view of RagingBid.com pro's and con's that we've gathered from this site.
RagingBid Pro's & Con's
Pro's
Bid prices do not fluctuate- price is constant 70 cents.
Great category drop down tool for easy site navigation.
Autobidder tool available that helps you bid on multiple auctions at the same time or while away from the computer.
Registration is FREE.
Up to 30 FREE BIDS upon registration.
Auctions available for vacations, tickets, and events.
Extensive selection of products with large quantity of daily auctions.
Offers Free bidding tips for winning.
Con's
Lack of customer support telephone number/ contact information not easily accessible on site.
 Warranties not provided on won auction items.
Auctions can last several hours.
No guaranteed time frame on delivery of products.
Tracking numbers not provided.
Won auction items may not be available. Customer would receive a different product of equal value.
Weekly and Monthly Win Limits exist for bidders.
As always, with more experience in dealing with this site we will continue to keep you posted with the most up-to-date news and information regarding this site. For now, check out RagingBid.com and see for yourself the deals that they offer.
Use RagingBid.com Promo Code: RagingBidFB.
RagingBid Screenshot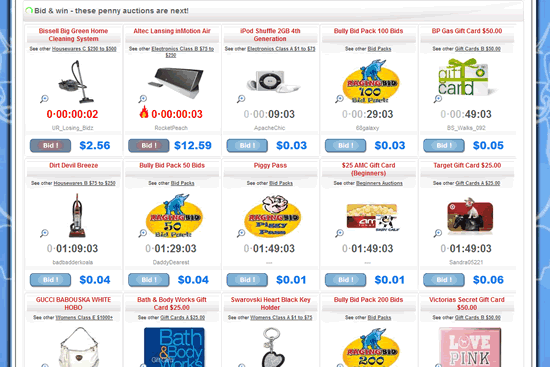 Click Here To Visit RagingBid Now
Find more
penny auction site reviews
if RagingBid does not have what you are looking for.