Contact information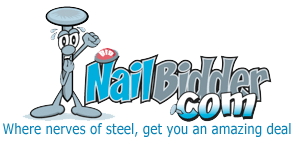 Official website address: http://www.nailbidder.com
Phone number: toll free: (877) 294-2102
See real bidder ratings of nailbidder
*It's not that we don't like Nailbidder.com – it's that it is not there! It closed. So obviously we would NOT recommend you doing your penny auction business at nailbidder. Instead head to Beezid.com to get in on an auction now!
Nailbidder.com sign up bonuses or freebies
*we no longer consider NailBidder a bidding site worth bidding at. It is not that they are not one of the legit penny auction sites but that they are pretty much running on fumes. The back end where we log in to get links and banners is all screwed up and there are literally 1 or 2 auctions going at a time.
I recommend bidding elsewhere. Check out the best penny auctions of today on our home page!
Nailbidder.com offers customers the opportunity to win five free bids on registering with them. Registration with the site is relatively simple with the standard sign up form. NailBidder offers free ground shipping for all items purchased at the site, which is pretty awesome. They also have a free overnight shipping option that can be availed on all auctions that conclude over $25 which is even more awesome.
Current NailBidder Promotions
You can sign up for NailBidder and get 5 free bids.
Nailbidder pro's & con's
Pro's
NailBidder.com has an in-house guarantee that assures patrons that all products featured at their site are present in their New York facility beforehand. This fact makes them one of the most legit penny auctions online
You can have your item shipped to you the next day through United Parcel Service (UPS) ground.
The site offers patrons their items' UPS tracking number that facilitates its Live Tracking.
All products featured at the site are from popular brands.
The bids at NailBidder.com start as low as 60 cents.
You may even save as much as 99% on the maximum retail price of a product.
The site has an efficient customer support team that can be accessed via telephone, at the number provided above.
NailBidder.com permits consumers to return a product in its unopened case, in fourteen days. On doing this, the consumer becomes eligible for a refund for the auction prices placed along with all his bids.
The site is reliable, as it promises that no form of shill bidding takes place.
Con's
There are multiple auto bidding tools on this site and for someone new to online penny auctions this can be confusing.
This is a very competitive site. For experienced bidders this is a great site with a lot of great deals. It may, however, be difficult to win and frustrating for the beginning bidder.
The auctions on this site can be time consuming and strenuous.
General product offerings on Nailbidder.com
NailBidder.com has on sale a wide range of electronics and consumer products from brands that are well-known. They have LCD televisions, iPods, iPads, flash drives, coffee makers and Blu-ray discs on offer. They also have bid packs ranging from 50 to 200 bids. The site also offers game CDs that can be used on a PS3, Xbox and PC. Here, you will also come across gift cards too.
Nailbidder shipping details
NailBidder.com offers its patrons free shipping services. Items are shipped through UPS, to locations in the continent of US. This offer is not extended to Hawaii and Alaska. The sovereign territories in United States that are excluded from this offer are Puerto Rico, Guam and Virgin Islands (US). Shipping rates to these areas and international locations can be enquired directly at NailBidder.com.
These items are shipped by NailBider.com directly from their warehouse. Average time taken for a UPS ground delivery is between one and six business days. This delivery time is contingent on the location to which the delivery is to be made. When items end over $25, they will be shipped overnight, through UPS, free of charge.
Features Of Nailbidder.com
NailBidder.com has a Buy It Now feature. The site also has Nail Clipper, a tool that can be employed by bidders to win an auction item even when they can't be near the system when the auction is ending. On setting the Nail Clipper, it waits untill the last seconds of an auction to place a bid on your behalf. NailBibber.com also has a feature called "Sledge Hammer", which functions similar to Nail Clipper, however, it places bids irrespective of the time remaining for the auction to end, aka an anytime bid agent.
Find more bidding techniques to help you win on Nailbidder.com and other sites just like it by reading our penny auction bidding styles article.