Foopile Contact Information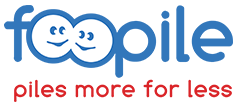 We Recommend Finding a Different Penny Auction Site – Bidders are Complaining of No Shipments And The Site Is Buggy As Hell
Official website address: http://www.foopile.com
Phone number: Not available
We Recommend QuiBids.com – An Incredible Penny Auction Site!
Sign up bonuses or freebies on Foopile.com
We do NOT recommend bidding on Foopile.com – The below review is invalid as of October 31st, 2011
Outdated Review of FooPile – They Now are A Pile of Complaints!
Foopile.com currently has a special offer for new members registering with the site. Through this you can get 250 bids for just $99. Click Here To Get Your Bids. The site also has a 100% free registration and sign up bonus through which you can get three bids for free. These bids can be used at any auction at Foopile.com. Foopile.com allows you to start bidding at their site within five seconds of registering with them.
Foopile.com current promotions
Foopile.com is currently hosting a promotion on Facebook. The site conducts two free bid contests, daily, on their Facebook page. To gain access to the contest, login to Facebook and look for Foopile's Penny Auction.
Foopile pros & cons
Pro's
Foopile.com has an efficient customer service cell that is prompt with assistance and are a safe penny auction site.
The site is also credited with providing patrons with strategies and tips that can enhance their chance of winning at Foopile.com.
The site conducts auctions 24 hours a day, thereby providing patrons the opportunity to bid at their site at all times.
Foopile.com closes auctions in a relatively short period of time – an average of 3 to 4 hours. This way, those bidding at this site will be able to complete an auction relatively quickly.
Closing lag time on auctions at Foopile.com is designed to provide patrons who want to place auctions during the last few seconds at the site, the chance to do so.
Foopile.com offers "spins" which can be worth 1-250 bids.  Usually if bidding on only a spin auction the bidding is 100% free, meaning zero bids are used up while you bid on the spin item.
Con's
Lag time on auctions is contingent on your server.
Foopile.com sets win limits. Meaning that a member can only win a certain amount of auctions in a specific time period.
General product offerings on Foopile.com
Foopile.com has a wide selection of products on offer at their site. Some of the product categories auctioned here are books, magazine, musical instruments, games and game consoles. In addition to this, the site also has cameras, computers, computer accessories, MP3 and audio. The site also features home, gardening and health related products. The products featured here are from top brands. Most of the products range between $20 and $1000.
Foopile.com shipping details
Typically your item will be shipped by Foopile.com in two to three weeks of paying the site for it. Foopile.com will provide you with your product's shipping details. The auction prices you pay at the site are not inclusive of the product's shipping charges. On a few occasions, the site offers free shipping too.
Features or unique selling propositions for Foopile.com
Foopile.com has an affiliate program through which $3 is paid to each new member who signs-up with the site. The site also has a Buy It Now feature that can be used to bid for items at Foopile.com. This feature is relatively reasonable when compared to similar penny auction sites. They also have Bid Butlers, a bidding tool with which you can bid even when you are away from the computer. Foopile.com has Bid Sniper, another bidding style with which you get to take a shot at the bid when only two seconds remain. Both are features on which the site places a ceiling.
Bid Somewhere Else – FooPile Is Not Recommended
Try Qbids penny auction site if you like sites with "Buy It Now" or Beezid.com if you like the strategy and game play more.