Halloween isn't just for kids anymore. Quibids.com gives great incentives for adults to get in on the fun too.
Through the month of October Quibids is holding a "Dress Like Quibids Contest"! Simply submit a photo of yourself to Quibids dressed as you believe Quibids would dress (aka – pricetag, oversized Q, just be creative). The person with the largest number of votes is the winner and will receive an iPad2 as well as a $200 gift card of their choice!
How to Enter The Quibids Contest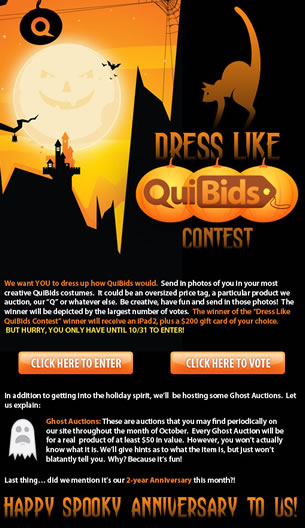 Click on the CLICK HERE TO ENTER image and fill out the form that follows! OR go to Quibids.com and Click on Halloween Contest on the right!
Good luck and start being creative today!
Other Quibids Promo Codes for October
Not feeling very creative but still want in on the fun? Quibids will be holding periodic Ghost Auctions throughout the month of October. What is a "Ghost Auction"? Well its just that… a "ghost" product – meaning you won't know exactly what it is you are bidding on. There will be clues to what it is and every product will have a minimum of a $50 value but that's all you'll know!
Fulfill your ghost busting dreams and get in on a Ghost Auction today!
To get more information check out Quibids Company Blog!